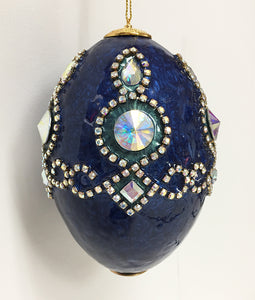 This handsome piece sports a deep, pearlized blue enamel with complimentary teal in the insets. The stones, in various shapes and sizes, are aurora borealis which shines and glimmers like few other stones.
The ornament itself is made from a South American ostrich egg shell and measures 6" tall. Indoor use only.
All Vivian Alexanders are custom made by hand in our studio. Please allow 2-3 weeks for delivery.