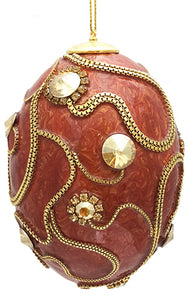 An elegant golden serpentine motif. The curling tendrils are punctuated at the ends with rivoli and chaton stones that sparkle no end!

This ornament is made from a genuine eggshell of a South American ostrich (Rhea). It measures 6" tall. Indoor use only.
All Vivian Alexanders are hand made in our studio. Please allow 2-3 weeks for delivery.