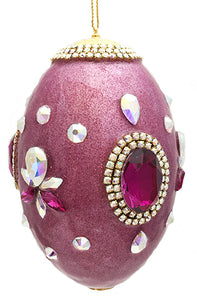 Translucent pink enamel with fuchsia glitter added is the background foil for an impressive array of aurora borealis and fuchsia stones. The sparkle factor on this ornament is most impressive!
This ornament is made from a genuine eggshell of a South American ostrich (Rhea). It measures 6" tall. Indoor use only.
All Vivian Alexanders are hand made in our studio. Please allow 2-3 weeks for delivery.