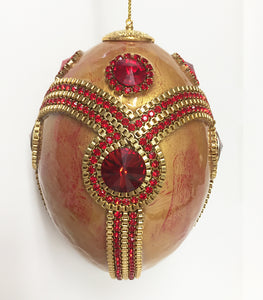 To create this rhea ornament, the eggshell was first painted Chinese red. Then, a metallic gold was rubbed over the surface leaving areas of red to show through. The bold design made of red crystals and gold chain sits solidly on top of the vintage finish.
The ornament itself is made from a South American ostrich egg shell and measures 6" tall. Indoor use only.
All Vivian Alexanders are custom made by hand in our studio. Please allow 2-3 weeks for delivery.